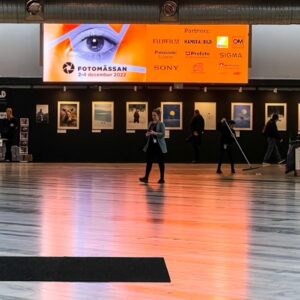 Fotomässan 2022 that took place in Stockholm on December 2-4 turned out a real disappointment. I went there with great expectations. It's been three years since the last one because of the pandemic. You would expect there to be a hunger for an event like this. You would expect all the big camera brands to be there to show the latest models, their new exiting tech. And of course you would expect there to be loads of visitors. None of this happened.
Yes, there were a few big camera brands like Sony, Fujifilm, Panasonic and Leica. Sigma was there to show a few lenses. But that was about it. No sign of Canon or Nikon. To add to the disappointment they all had tiny stalls. It was almost as if they didn't want to be there in the first place.
All in all there was more open empty space than was covered with exhibition stalls.
The only interesting thing
Now, it wasn't all bad. There were a few interesting talks worth listening to on the day I was there (Friday), and a few more interesting talks were planned for Saturday and Sunday as well.
Unfortunately a few interesting talks doesn't really make it worth the cost of admission. The quality of this expo will have to improve greatly next year or we might have seen the last Fotomässan.