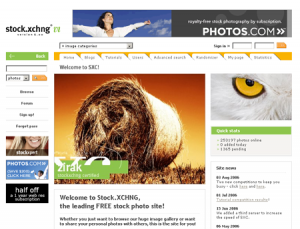 Hobbies can sometimes easily be turned into a money making business. If your hobby is photography and you you're good at it, you could make some extra cash selling your photographs online. Here's how to do that.
Stock photography is probably one of the best ways to start selling your photographs. There are literally dozens of websites where you can upload your photos. On these sites people can then purchase your photos to use them on websites, newsletters, magazines and other media. However, the competition is fierce. Hundreds, if not thousands, of photographers do this, which means that in order for you to get your photos sold they have to be of high quality as well as cheap. This in turn means that for you to make any kind of serious money off your photos you will have to upload dozens or even hundreds of good quality photos.
So, do you think you've got what it takes? Start by doing some research. Check out the most widely used stock photography sites to get an idea of what's on offer, what customers might be looking for, and also what kind of quality is needed. Remember that even the cheapest stock photography sites will turn your photos down if they're not good enough.
A couple of things you need to keep in mind
Your photos should be high resolution – customers will be able to buy your photo in different sizes/resolutions depending on what they need it for. The higher resolution a customer wants, the higher the price.
Try to be unique – don't submit the same kind of photos that already exists in their hundreds on the site. Unless they happen to be exceptionally good, they will most likely not get accepted. Try to see what kind of photos are missing or at least are very few in numbers.
Selling your photos online will not make you rich, but providing you're good and you manage to sell at all you could possibly see some nice extra cash coming your way. In the meanwhile, start taking photos, lots of photos!
Here are a few sites where you can start
Shutterstock Photos (www.shutterstock.com)
Stock.xchng (www.sxc.hu)
iStock Photo (www.istockphoto.com)
Dreamstime (www.dreamstime.com)
Good luck!